One of the best locations for soul and relaxation while on vacation is the Maldives. The Maldives is regarded as a piece of paradise on earth. Families, single travellers, honeymooners, and groups of friends all travel here.
One might find a big list of things to do in the Maldives when they consider their options. There is an endless array of exhilarating, interesting, and adventurous activities. You have a wide range of options, including island hopping, participating in water sports, shopping locally, and eating traditional Maldivian food. This island has far too many attractions for you to choose from, including lively nightlife on the beaches and resting in lovely resorts.
The following are the top ten experiences you must have while visiting the Maldives:
1. Scuba Diving: While visiting the Maldives, be sure to engage in the most unique and entertaining underwater activity, scuba diving. To have the best scuba diving experience, you need the ideal diving spot. In this paradise, Maaya Thila is a stunning site to go scuba diving. You will be astounded by the undersea world's captivating splendour. You would gain experience from this. Either you or a group of people can try it. View the stunning underwater scenery of Maldivian beaches. Catch a glimpse of the stunning aquatic life, including corals and other things.
2. Sunset cruise excursion: If you enjoy gorgeous scenery, you should consider taking a sunset cruise adventure in the Maldives. Either go on a cruise or just go to a beach to experience this. After this serene experience, you'll feel calm. This portion of your trip would be improved by having your loved ones with you. While watching a sunset, you will be treated to some of the most breathtaking scenery. This would also be a whole different experience for you if you went on a cruise.
Island hopping is one of the most well-known and well-liked tourist activities in the Maldives. If you do, your tour will be lacking in some way. In total, there are more than a thousand islands in the Maldives. You can visit some of the best of them, but not all of them at once.
Visits to Maafushi Island, North Male Island, South Male Island, and other places are recommended. Visit these islands, sample the local cuisine, partake in some exciting activities, party, unwind, and end your exciting journey with a collection of memorable experiences.
4. Visiting a bioluminescent beach: Vaadhoo Island's shimmering beach is a popular tourist destination in the Maldives and is home to one of the world's most famous bioluminescent beaches. Enjoy your evening here while taking in a view you won't forget anytime soon. You will be astounded by this sea of stars. It is a must-visit location because of the glowing phenomenon of seawater.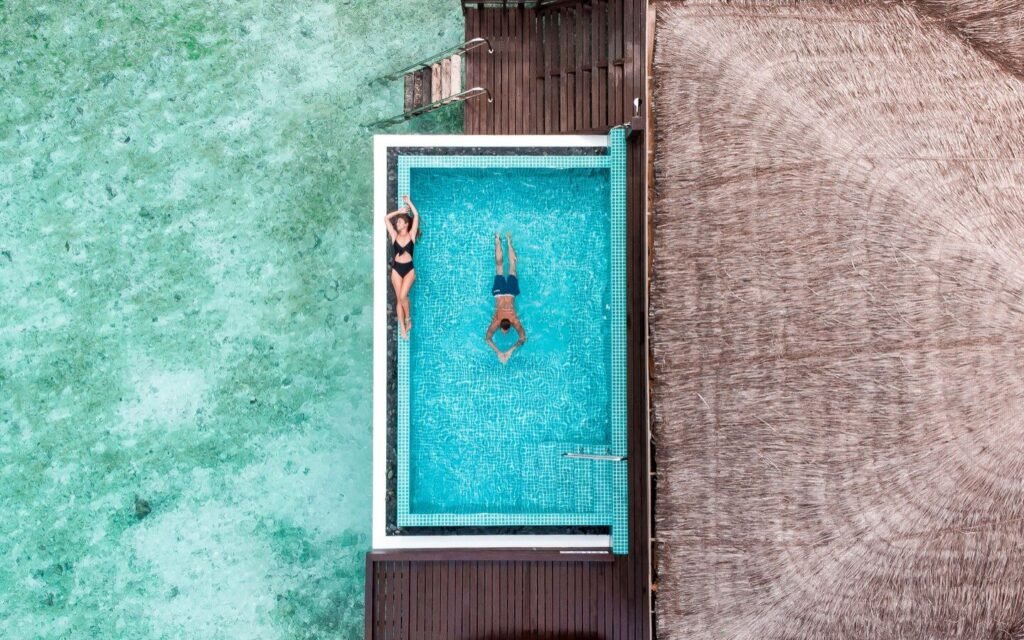 5. Unwind in spa sessions: In the Maldives, unwind and revitalise yourself through a variety of spa sessions. Experiences at Maldivian spas are popular. You ought to go through this once. Couples' spa treatments are well-known among tourists. Either in your resorts or someplace in the Maldives, you can take pleasure in this soothing activity.
6. Take a thorough look around Male, the capital of the Maldives. Enjoy leisurely strolling through this amazing city's streets. You can engage in a variety of activities here, including water sports, market shopping, trying local food, strolling along the beaches, etc.
7. Have a romantic supper: A candlelight dinner in the Maldives is essential for honeymooners and even regular couples travelling together. One of the nicest things to do on your honeymoon in the Maldives is to have a romantic meal with your soul mate. With a lovely vista in front of you, you get to spend time with your companion. You would have a wonderfully quiet, romantic moment here that you would never forget.
8. Try skydiving: In the Maldives, skydiving is one of the finest exciting experiences you can have. Fly through the air and at least once in your life, feel this thrilling rush. View the Maldives from above and take in the breathtaking scenery. You don't need to be concerned about safety because this activity is carried out by skilled and qualified pilots.
9. Dolphin Cruise Excursion: If you've ever wanted to watch adorable baby dolphins playing freely in the ocean, then Dolphin Cruise Excursion will make your wish come true. You would like the experience, I'm sure. On a family vacation, don't pass up this opportunity; the youngsters will be amazed by this view.
10. Investigate Mosques for Historical Information: One should undoubtedly visit the Maldives Friday Mosque. This area is for you if you wish to learn about Maldivian history. This mosque is one of the oldest and most well-known in the Maldives, and it is decorated with exquisite Islamic architecture.
Why not book your Maldives vacation packages with us right away? And on to the top Maldives attractions.
Find more information about travel-www.magazine4life.com